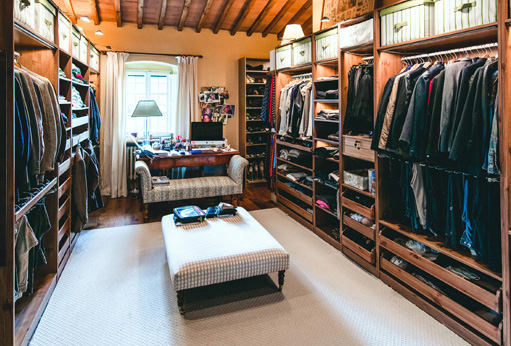 Location: Chianti Fiorentino
Located in the center of the proprietary Farming estate, it is surrounded by vineyards, in one of the most pivotal and characteristic wine production region of the Chianti Classico. It enjoys a splendid panoramic view of a medieval village listed among the most beautiful villages of Italy.  Its size and shape is that of a typical Chianti house renovated for use as a family home.  The broad "living quarters" on the ground floor have been created by repurposing rooms that were once used as support service areas necessary for farmland cultivation activities.
The old stables and the carriage house, while having a new purpose of use, have maintained their original architectural layout and with the installation of oak flooring from reclaimed wood from the disposal of the old wine vats and barrels, they were enhanced for their new destination of use.  The rooms on the first floor, entirely allocated as sleeping quarters, which open radially around the billiard room, have maintained for the greater part old terracotta tile floors.  The essential simplicity of the garden along with a small swimming pool and a renovated barn, complete the restoration works of the entire facility.